BMW Motorcycle Club, people who have an R25/3 in the Living Room Club, International
Just for fun
People who have an R25/3 in the Living Room Club, International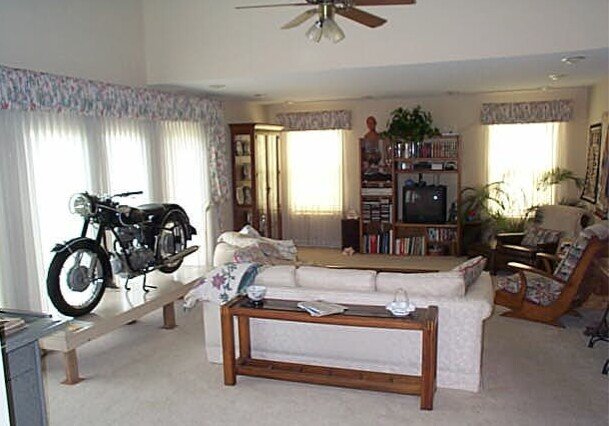 Home of Duane and Linda Ausherman in Galt, California, USA
The purpose of this new club is for the many people who love their R25/3 so much that they want to honor it by displaying it in the house.  This will not be some pretentious club that is all too common these days.  There will be very few restrictions.  The idea is for many people to come together and share common joy and concerns.  We could have international rallies too.
---
Walter's R25/3 is finished
This fine example belongs to our charter member #2, Walter who lives in Vienna, Austria.  (not Australia) It is a full restoration and finally finished.
It graces his library and will certainly be a conversation piece.
---
Brian Happel, the newest member
It seems that Brian still has some work to do.
---
Membership requirements
1.  Own and display an R25/3 in the home.  It may be on display even in a basement "sports room" or any such place that has the right ambiance.  It need not be a full restoration and one with a lot of good points will suffice.
Note 1; the lowly R25 and R25/2 do not qualify for admittance.  While they are "nice" bikes, they certainly don't have the modern features of the highly developed /3.  Our forks actually have hydraulic dampening.  The nasty antiquated "hand shift lever" is GONE.  The air intake is genteel in concept, as it is damped by the fuel in the gas tank.  This gives it a whisper quiet intake sound.
Note 2; the twin is also not admitted.  They are an example of the pretentiousness of the wealthy or famous.  This club belongs to "everybody" and not just the rich snobs that ride around on their smooth and overpriced machines that look down on us.
2.  We may have to limit the size of the total membership.  I think that 500 members are big enough for us to be able to share our common interests and small enough that we can really get to know each other well.
International Rally
It is too early to select a site for our first rally, but a few things seem to make sense.  We should have it in a city with many members, rather than only a few.  A city with an International airport would be nice.  It should also be central to the greatest concentration of members.  Galt might do nicely.
Rally workshops
Our unique aspect of the motorcycle hobby gives rise to several commonly shared interests and concerns.
1.  We can bring in a panel of interior decorators for a workshop to suggest the best ways to combine home and hobby.
2.  Kitty litter or Portland cement to clean up oil stains off of your carpets.
3.  Which gasoline do you prefer for aromatherapy?
4.  Which is the best motor oil for non-operational, display only, motorcycles?
5.  A tire comparison for long life, ease of waxing and resistance to making carpet stains.
6.  How to best transport your "living room ambiance" to the International rallies.
7.  How best to use Feng Shui.
8.  Halogen or Conventional Incandescent: Showing off in your best light.
9.  Carnauba, or Microcrystalline: Can 5000 museum curators be wrong?
10.  Dehumidifiers for the home.
11.  Cosmoline: Let your archival coating double as an insect trap!
12.  Killer Carpets: Are off-gassing carpet fibers clouding your finish?
13.  Seasonal Issues: So you've got Christmas lights, but what about Halloween?
14.  When She Doesn't Get It: How to keep that toilet seat cover off your Pagusa.
"Pasted" comments from around the world
I highly recommend the inclusion of R27's in this club.  Please consider it, as I would hate to have to start a competitive club for R27's, which are (you'll have to admit) the end state of a design that BMW engineers failed to get right until they finally solved all of the flaws so apparent in the earlier mock-up versions.
Jeff Simmons
————
Duane!
I'll join! As dumb luck would have it, my great uncle in Germany left me an R25/3 in his will and I should have it by mid-summer! I really don't know much else about it but understand that it was taken in trade for a car that he had and that he was afraid to ride it.  Evidently, it was stored in his attic, of all places, and "looks like new" so I decided to have my aunt ship it to me.
Finding a place for it in the house is going to be difficult as Debbie will probably frown on it and I'll have to get rid of one of our many couches.  One day at a time I guess…
Let me know where to sign up and I'd like to wish you and yours a happy April fools day too; o)
Klaus
————
I have an R27 in my den, our TV sits on it.
Does that qualify?
No pic yet.
Best,
Mac Kirkpatrick