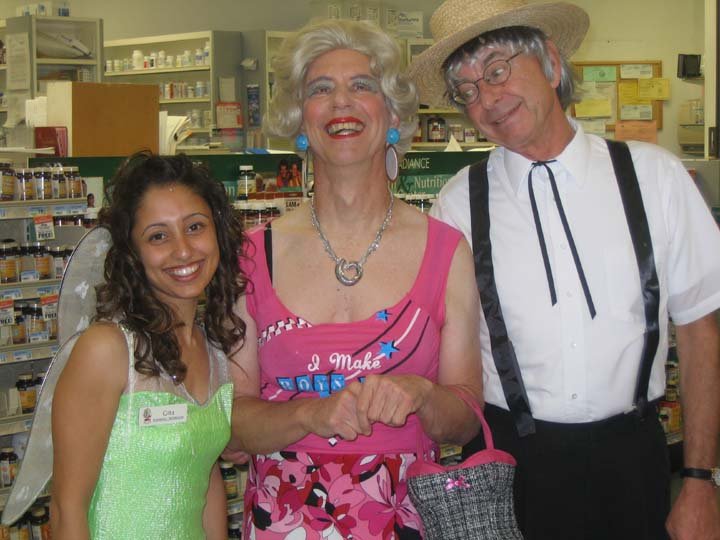 The best picture came out of Long's Drugs. Diane is sandwiched between an angel and a john.
Diane is consulting with her angel stylist, Alice, at Salon 21.

The Bank of Lodi wants Diane to deposit her hard earned money there. They know a good thing.
Carrie Maylum is running for the high school board. Even politicians want to gain from Diane's popularity.

Denny's, in Galt, is full of potential "friends".

Pirates "take assets" and Diane makes a mutually beneficial deal.

Ronny Smith, childhood friend, is with Diane at Galt Mortuary.
Lovely Emily is Diane's granddaughter. Emily is so proud of her grandmother. She works at Ace Hardware and goes to college.
Galt sports a ghost and a hooker.

Diane is trying to get a temp teaching certificate to teach "how to succeed in small business" in the high school.

Diane at an interview with Karen Schauer at the Elementary School District Office in Galt.

Diane and Larry, the local barber, trade services.

LaVine Insurance offers a variety of products that may interest Diane.

Diane needs legal help from time to time and this is the office of defense attorney Len Reid-Reynoso.
Diane knows all of the important people in Galt. Here she is with Liz Aguire the city clerk applying for a one day business permit. The only category of business that sort of applies is a contractor.

From time to time Diane has a "stretched muscle" and needs therapy.

Heather and Diane are close. Heather just got married and still works at Save Mart.
Diane knows baking and consults for Spaan's cookies.

Steve is the manager of Better Bodys gym and likes Diane to come in so that customers will think that he has a pretty girl friend.
---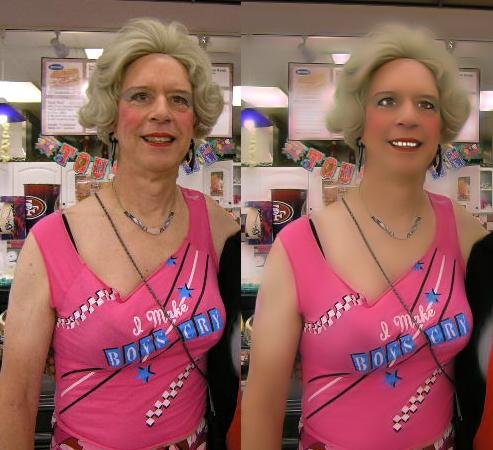 Here you see the the original on the left and the digitally enhanced Diane on the right. This was done by a "friend" who was just playing around. I put this on a BMW motorcycle forum that I frequent. Here are a few of the reactions and identity.
Does the term 'Silk purse from a sows ear' ring any bells??? airhead
MYLORDWHATANIMAGETOWAKEUPTO vanzen
OH great! Diane is gonna make all the boys cry! We need a warning so many here don't get wondering thoughts! 00weel
The computer even ironed the dress! Chuey
Damn, some things just can't be 'un-seen!' Veg
Oh, no....I've created a monster! Randy
You'll not a bad looking man but as a women you are so ugly you probably have to sneak up on a glass of water to get a drink. russell
You owe me for an extra prescription of viagra. andmoon
That's not a computer enhanced image, it's the prototype of the new inflatable "Auntie Diane Anti-Viagra" doll from Rubber Maid! From the Mens Health article on it: "Finally an effective product for men who have a hard time losing the erections Viagra gives them. I mean seriously, who needs a 4 hour hard-on? Just inflate your Auntie Diane doll and place it in your field of view, it's guaranteed to put a pucker in your pecker." Warning: side effects may include: dizziness, nausea, shortness of breath, Barbiephobia and an unnatural attraction to jugs of milk. Timo in Hawaii
That's all