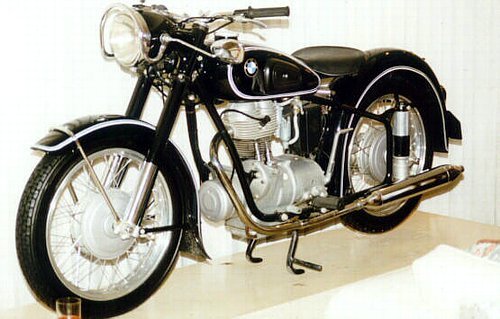 1955 BMW R25/3, in our living room
Here are more about 200 pages of BMW motorcycle trouble shooting, repairs, restoration and maintenance tips for older models. Learn to fix your BMW motorcycle from some of these pages. Specific questions that I have received by email about certain issues have been addressed in this format. This way I only have to write it once. I do not take phone calls.
I owned and operated "Duane's Shop" in San Francisco from 1968-1971and then received a BMW franchise and moved to Marin county. That shop was called "BMW of Marin" and employed 4 full time mechanics. It was the largest service facility for BMW motorcycles in the USA. My experience almost came to a screeching halt in 1975 when I sold my shop. I continued as a BMW dealer, until 1980, way out in the boondocks, on a hobby basis only, with Fort Bidwell Shop.
This site is not intended to be a complete or "ultimate" book on BMW. I only write on subjects that I know about, remember something, are not addressed on other tech sites, or are addressed in error. If a subject isn't covered here, that may be because it is well done on another tech site, or because I know nothing about it. You may find it on my links page.
All of these pages are incomplete. Check the date at the bottom to see the last update. An update may be major, or minor, but I am updating pages at least weekly.
Other repair methods may exist that may be better suited for your application. Read everything that you can find and then decide how to proceed. New technology and re-produced parts may change what I once knew.
If you like this information, please donate
Search my site using Google:

General BMW motorcycle information
How to best use this site.
Links to some great BMW websites
New
Flanders Company accessory catalog from 1969.
---
My t

op 10 most visited BMW Motorcycle pages for 2006

1. BMW vocabulary. Still #1

2. Old BMW motorcycles that I have owned. Unchanged

3. A lot of BMW motorcycle transmission information. Was #4

4. Top 20 things to NOT do to your BMW. Was #3

5. History of BMW emblems. Unchanged

6. All about BMW tapered wheel bearings. Was #7

7. What does this /2, /3, /5, /6 or /7 really mean? Was #8

8. Links to BMW sites. Was #6

9. All about points and condensers Unchanged

10. The tool kit, new on the list
---
---
---
---
---
---
---
---
---
---
About my BMW life, junk for sale
---
---
What people are saying about this site.
---
You think that you can ride a motorcycle, check this out
The following links are pages I currently promote. Please click on them to improve their ranking in Google