The story and photos of a BMW motorcycle with a VW engine
If you had told me that this would change my life forever, I would have thought you to be crazy.  However, it did, and thankfully.
In 1966 I was living in Cleveland and read an article in Cycle World bike magazine about a guy, Delbert Needler, in Indiana that put a Volkswagen engine in his BMW /2.  I was so enthralled that the next day I was able to visit him.  By total coincidence, my job with NASA took me to within 50 miles of his home that next weekend.  His motorcycle was even better than I imagined.
My good friend, Steven White, and I decided to each build one.  Delbert had made up a couple of extra sets of raw castings, and we bought those.  My father machined them for us.  We used Steve's basement for a lot of the framework.  I finished mine and wanted to test it and then tour Europe with it.  It was fall, so I moved to California to test it during the winter.  Eventually, Steve moved to California, and together we finished his bike.  He is now an architect in Philadelphia, Pennsylvania.
One thing led to another, and I still have never really ridden in Europe.  Once I rode a BMW in Germany for about two hours.  I haven't escaped California either.  I sold the bike, but it hadn't been started or ridden since 1976.  The bike handles poorly but was very reliable for me for several years.  It has so much torque that one can feather the clutch in fourth gear at an idle, and it will walk away.  The top speed is limited by the rpm, as it still has BMW gearing and the low rpm of the Volkswagen motor.  I doubt that my bike ever went over 95 mph.  It was very fast on acceleration in its day, but the Honda 750cc 4-cylinder model was faster.  The /5 BMW was almost as fast but handled much better and would even stop.
The bike put me in the BMW business, so I am very thankful.  When I started the project, I had never worked in a motorcycle shop of any kind.  I just got out some tools and cut up a perfectly good BMW to install a Volkswagen engine.  The only way to get the audacity to do such an outrageous thing is to be young and stupid.  This ignorance continued, and with no experience, or training of any kind, I opened a BMW repair shop in San Francisco in early 1968.
This appeared in a motorcycle magazine from a Vintage Motorcycle Rally in Visalia, CA., in about 1969.
This is the same bike as it was in Galt, Ca.  It is gone now.
Right side view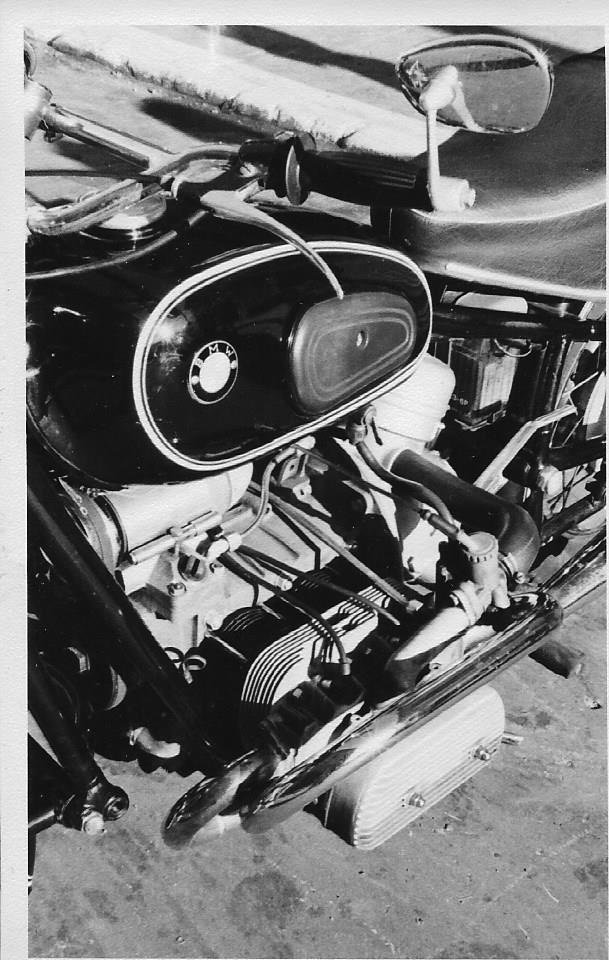 Left side view
Front view
Rearview
Upon finishing the bike, I moved to California in late 67.  The presence of this bike on the streets of San Francisco created a large demand on my part to do repair work on normal BMWs.
There is no relationship between building this motorcycle and repairing standard production BMWs.  I found a small rental space in early 68 and opened a shop called "Duane's Shop."  Business was excellent, and in 1969 I petitioned Flanders Co. for an official dealership across the Golden Gate Bridge in Marin County.  Gene Shirley, an employee and a friend, became my partner, and we opened "BMW of Marin" in San Rafael.  This was just in time for the release of the 1971 models.  The business was excellent, and we grew rapidly.  By late 1972, Gene wanted out and sold his interests to me.  I continued in business alone and did very well.  By early 1975 the business was as large as I felt that it could easily get.  It had the lion's share of Northern California's BMW business.
I sold out in April of 75 and moved to Fort Bidwell, California.  My former employees had become discouraged with the buyer of my old shop and left.  They opened a private repair shop in San Francisco called Bavarian Cycle Works or BCW.  So, I opened another BMW dealership, Fort Bidwell Shop, in late 76.  I provided BCW with new bikes and lots of parts.  BCW was 90% of my business.
That is the unlikely story of what this bike did to/for me.
It is now 2019, and I am still dabbling in the BMW world.  This update to my WordPress website is my last hurrah.  Thanks to the BMW world for being such an important and wonderful part of my life.
Updated 14 July 2022