Duane's Shop
by Duane Ausherman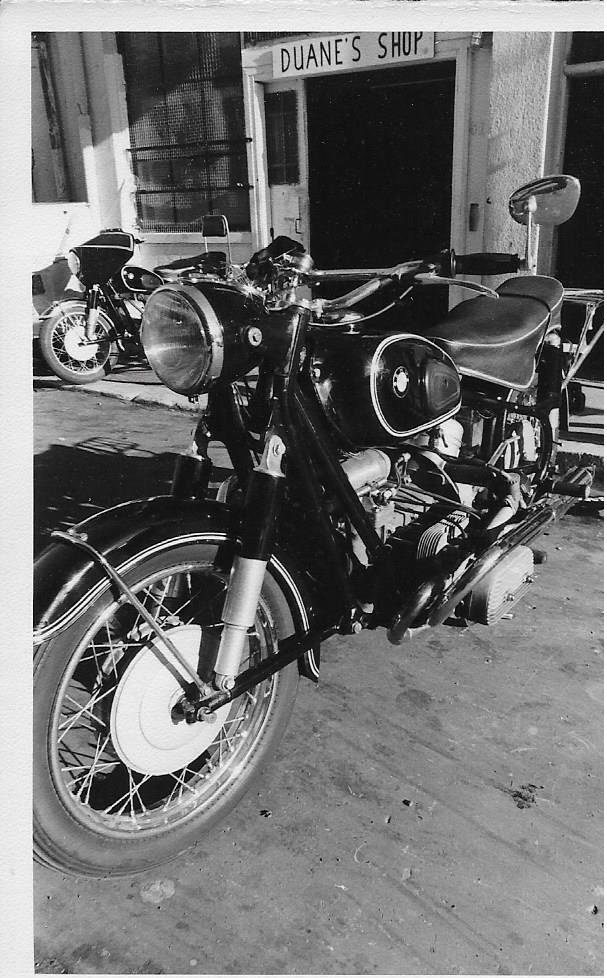 In early 1968 I opened up a small private BMW repair shop in downtown San Francisco.  I was stunned at how quickly the shop became profitable.  In only 10 months I had saved up enough to buy my first house.  That won't happen today.
On New Year's  Eve, 1967, friends took me to some event at the Peace and Freedom Party.  I noticed a "For Rent" sign on the ground floor of the entryway.  I investigated and rented it.
Kit and Steve White helped me clean it up, paint it and get it ready to be an outlaw BMW motorcycle repair shop.  I hadn't picked a name yet and Steve told me that they always referred to the place as Duane's Shop.  It got the name by default.
The shop that I rented was about 25 feet wide X about 60 feet deep.  At first, I rented out the rear 20 feet to a friend to help me pay the $65 a month rent.  The shop was at 51 Colton Street. It was an alley off of an alley, but only a stone's throw to Market & Van Ness.
My business exploded and I had to hire a part-time mechanic after only 2 months.  I trained him and he was quite good.
My landlord, Henry Dulik, owned the sheet metal shop next door.  His tenants on the upper floor, the Peace and Freedom Party, soon went bankrupt and bailed out.  He told me that he was impressed that I paid my rent a few days early each month, so he asked me if I wanted the extra space for $400 a month.  I asked for and he gave me a month to do market research to discover if I could use it.
I advertised it as an artist's workspace.  I soon had a list of potential renters.  I took the space, made a few changes and at full occupancy, I collected well over $1000 a month.  I was making money on it and getting free rent for my shop space.  My rent for artist's space was so much cheaper than any other in SF that I always had a waiting list.  I ran it very strictly and didn't allow anyone to party, practice music or live in it.  It was clean and quiet.
The horrible fire in Oakland, Dec. 7th, 2016, was in a similar type space, but nobody had been responsible to keep things safe, clean and with proper electrical service.  When that tragedy happened, it brought back memories of how it was avoided by my strict control.  What a sad story that is.
This was just one more example of pure luck.   Nearly everything in my life has had a huge element of luck.
updated 25 Sept 2019