Lovely Jackie Villasenor
I met Jackie a few years ago while she was working as a MAC artist in the Sears store at Somersville Towne Center. By age 18 she had earned her black belt in Taekwondo.
When a person is highly successful in any challenge at such a young age, that person will be successful in later goals.
My calling is to mentor young people.
Jackie started going to San Diego UC in fall 2020. A few days ago, I received a package from her. When I opened it up, I was amazed, as it was full of gifts. This is her thank you card text.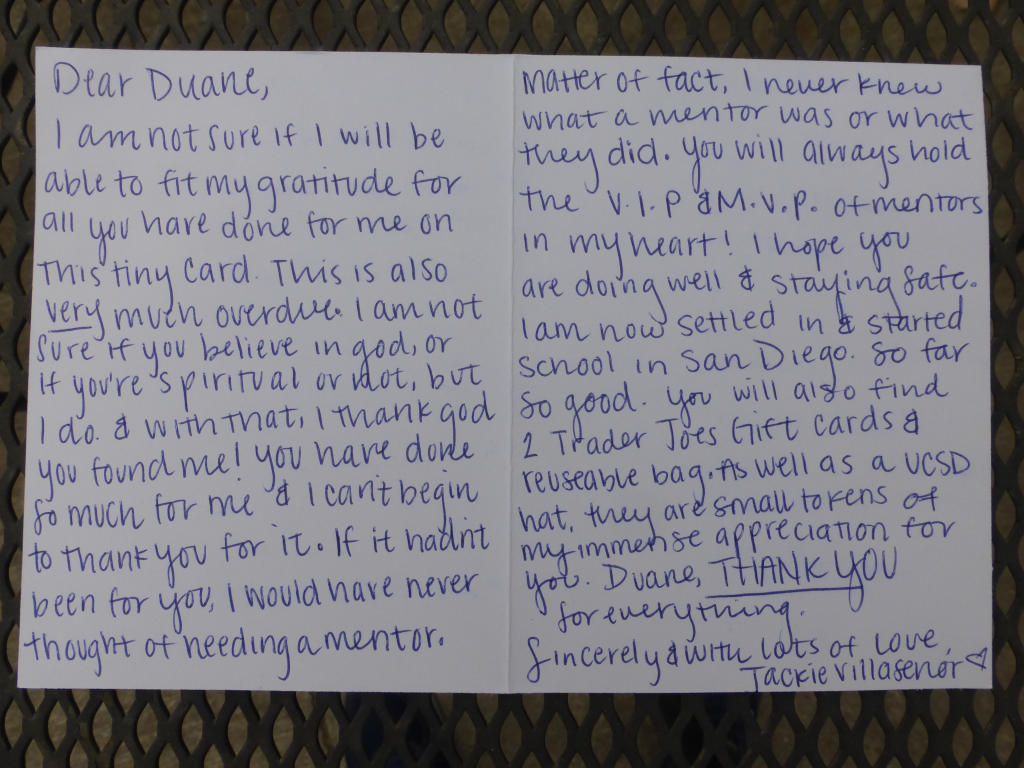 I am holding her gifts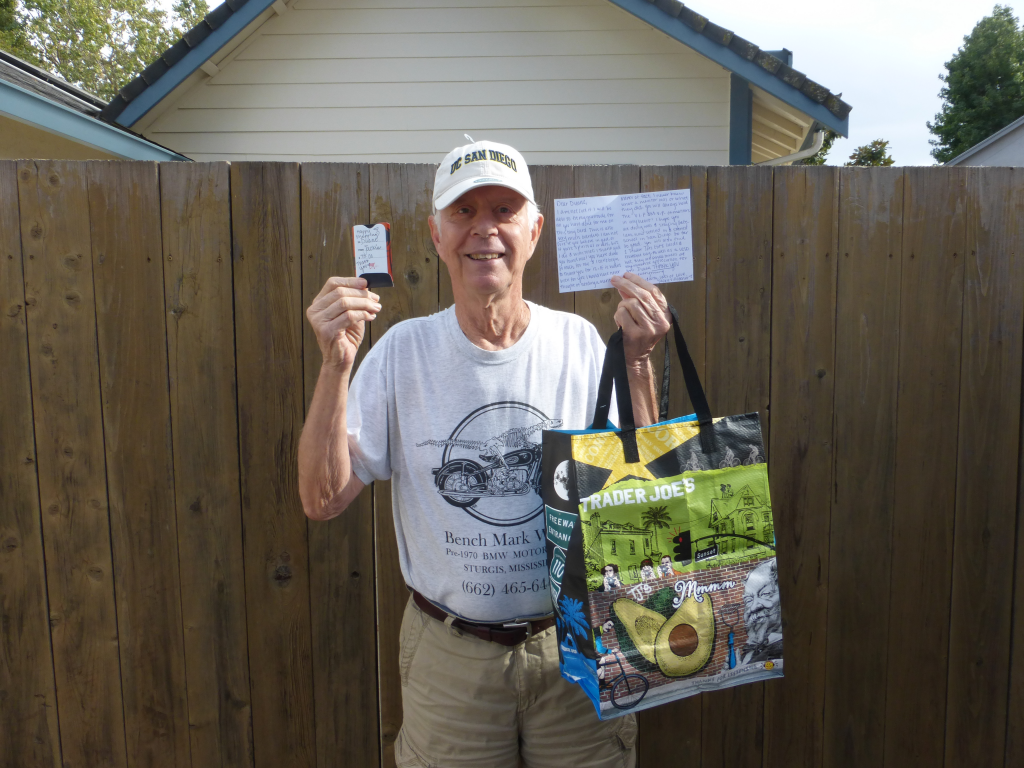 The bag is from a San Diego Trader Joes store. Printed on the colorful bag are directions on how to get to that Trader Joes from either direction on local highways. In my right hand are two gift cards for Trader Joes that total $75. The baseball hat is from UC San Diego.
For the first time, Jackie is on her own and away from her supportive family. Jackie wishes to be a medical doctor and she will do it well. She is studying Neurobiology because she is so interested in the brain and how it functions.
She will grow intellectually from her classes and personally from the experience that she will gain in her daily life. Jackie will expand her network as she makes new friends.
Jackie asked me to add a few things. These are her words.
Please add how you helped me in preparing to work for the Autism Clinic. Later how you helped me write and correct my personal statement and research paper for the six-week Stanford Medical Program. I hold the Stanford programs from 2018 and 2019 some of my biggest accomplishments recently, and without your help, I'm not sure how I would've discovered and succeeded in these programs, my success as your mentee is your success as well. This was related to my work at the clinic and my research paper you helped me correct about the disparities in Health care when it is in regards to Autism and Hispanic kids not receiving care. Please add how you helped me edit that!
I remember that we met the day before her interview for the job working with students with autism. I explained that she should know the mission statement very well. She should compliment some aspect of the mission statement. Then ask a question related to the mission statement and the job description. I told her that no other candidate for that position would do such a thing and she would stand out. She was offered the job on the spot.
I remember working with Jackie on those projects, but I don't remember all of the details. What I do know is that Jackie is a sponge for information and perspective on her projects.
She may give me too much credit😊
Back to my students