1972 was my first full year of BMW or Marin being a BMW motorcycle dealer.
A dealers meeting was held in Southern California for all BMW dealers west of the Rocky Mountains. I received a phone call from Butler and Smith asking if I would attend. I was told that I would be given a nice award.
I was called up to the podium and handed this award.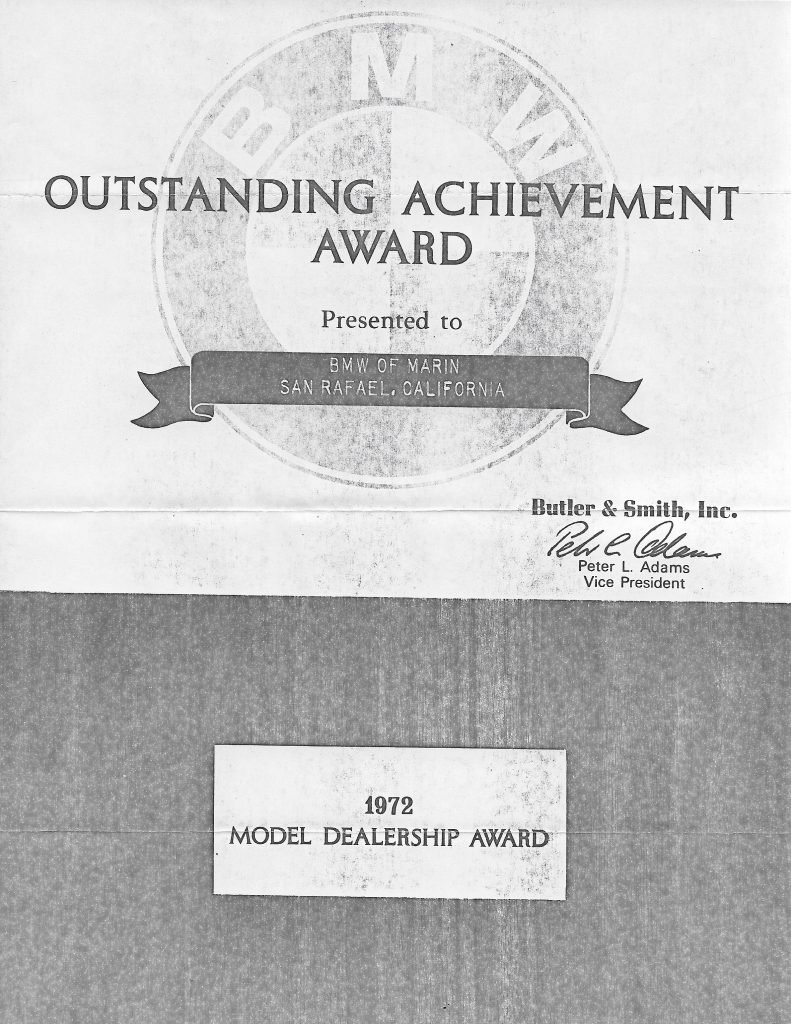 This award had never before been handed out and never was again.
As a result of this being posted, I got an email telling me more about the award. This is from Bill Goldfoos. We still email back and forth almost daily.
Herman Reidel at my home, after diner, of course, told me of this special award that you were to receive at this future ceremony, which Patricia and I attended, representing Yosemite Sport Cycles, our 2nd dealer year with BMW -Butler& Smith.
Herman had recommended your shop to me for transmission experience, and you were kind enough to allow our head mechanic to watch an assembly by your mechanic.
Of a BMW R60 tranny, with measuring the end play with a feeler gauge. I was there too and watched. Thanks for the memory! I believe you got this award due to Herman's friendship with the owners of BMW.
Cheers for Your Award!
Cheers To Herman!!
Bill
To learn more about Butler and Smith, read this article.
Butler & Smith story