Photos of tools and text (except as noted) supplied by Vech.
I have a lot of original factory tools that I use on regularly.  Also, you may not be aware, but excellent quality tools out of Europe that will withstand heavy shop use are available.   Not one-time use tools for do-it-yourself mechanics.    Not all are a dead ringer to the drawing of tools you have, and some are "improved."  We sell tools by our number, not the Matra number.
Tool 006–Matra 517, pin spanner hub plug R51/2-R69S
Tool 009–Matra 494/2, wrench for the castellated nut on gearbox output flange
Tool 011–Matra 296, Rudge wrench for round Rudge nut on pinion shaft R25-R27
Tool 013–Matra 530A, pushrod tube drift 16mm 1950-1969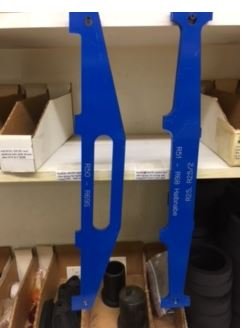 Tool 014–Matra 5050/5, offset gauge for lacing and truing 1955 – 1969 wheels (left)
Tool 014a–Matra 5050, offset gauge for lacing and truing R25 R25/2 R51-R68 wheels (right)
Note from Duane; We tried these two truing tools but found an easier way.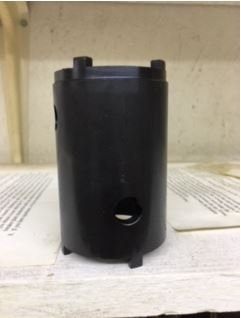 Tool 029–Matra 506A, slotted spanner for final drive pinion shaft seal holder R51-R69S one end for the plunger frame bikes, the other end for the Earles fork twins.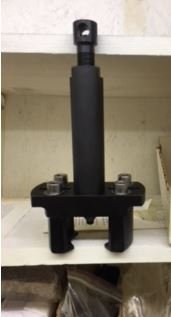 Tool030–Matra 499, the puller for crankshaft gear R51/3-R68 R50-R69S
Tool 020–clutch release toolset R50-/7 Matra 534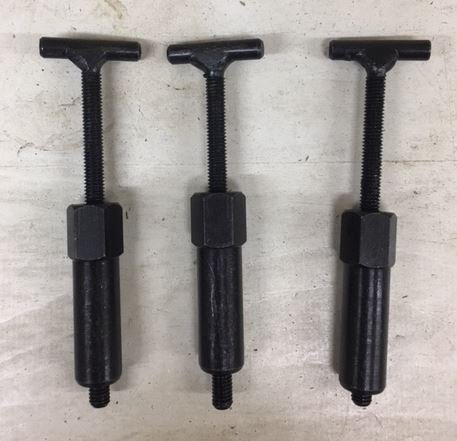 Tool 020a–clutch release toolset R24-R27 R51-R58 Matra 537A
Tool 022–Matra 326 kickstarter spring tensioner R5-R68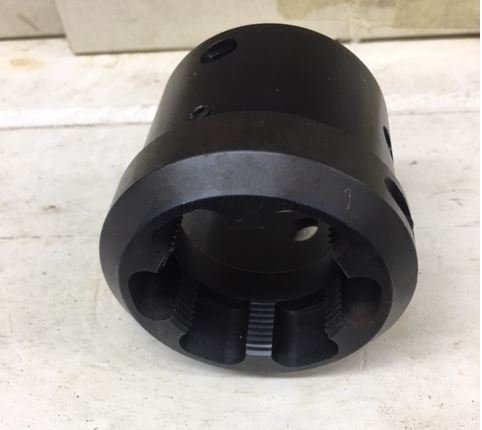 Tool 024, exhaust thread die 45 mm X 2.0 R24-R60/2.
Tool 024A, exhaust thread die 48 mm X 2.0 R68-R69S, R45, R6.
Tool 024B, exhaust thread die 52 mm X 2.0 /5-R100RT
Tool 025–Matra 311 flywheel puller R24-R69S R51/2-R69S
Tool 026–Matra 501 transmission drive flange puller R50-R69S
Tool 027–Matra 282 rear main bearing puller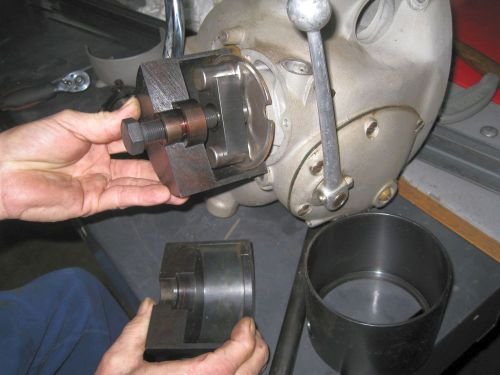 Tool 031–Matra 422A puller for output flange on transmission R51/2-R68 and R24-R27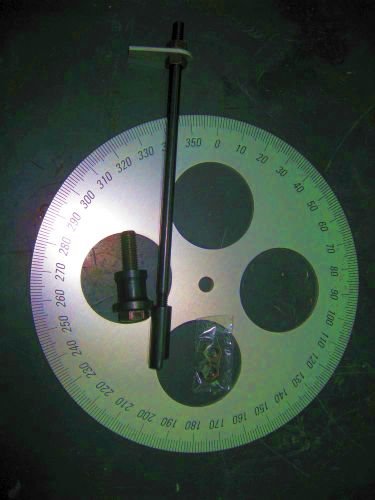 Tool 032–degree wheel with attachment parts exact duplicate of factory originals R24-R27 R51/3-R69S
Below is a tool that never existed, but I designed and had made.  Using a 3/8 air impact, it will remove the aluminum rear shock cap in just an instant.
Tool 034–rear upper shock cap removal tool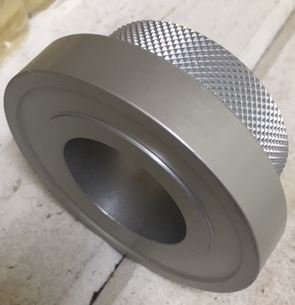 Tool 036–rear main bearing alignment tool Matra 5048, R50S R68 – R69S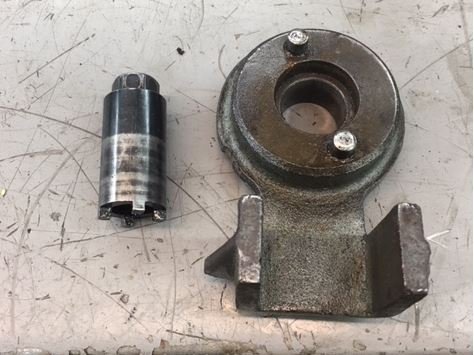 Original matra tool (number unk) used in conjunction with tool 009–Matra 494/2 wrench for the castellated nut on the gearbox output flange M14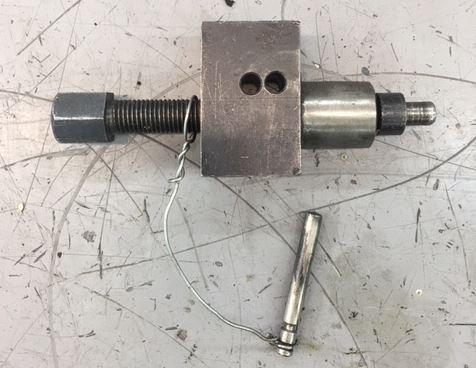 The tool used to pull the transmission door off of the back of the gearbox.  Goes on the ears that the clutch lever mounts, and presses the input shaft out of the rear bearing.  Don't know the Matra number.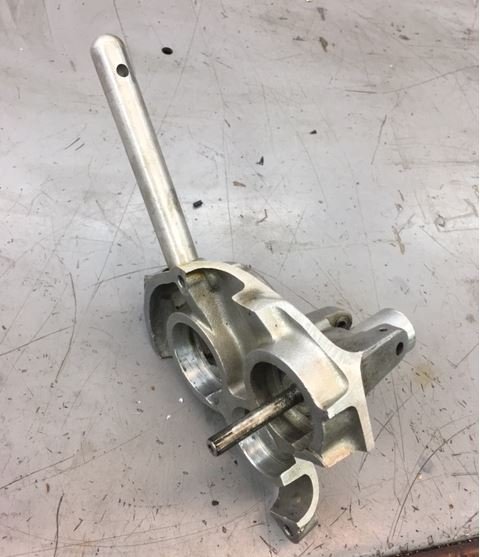 This homemade "speed loader" is for assembling the transmission made out of an old tranny door.  You put all three shafts in it, with the shift forks in the shift claws, heat the main case, and stick all three shafts in simultaneously with no burned hands!  There is an open hole to allow access to the secondary shaft to tap on it, with a brass punch and hammer to ensure it is seated all the way forward, and one can drive the support shaft piece for the input shaft forward.  The bearing holes have been hand sanded out so they are a loose slip fit, and will come right out when you pull the tool back away from the case after the main case cools.  A handle is stuck in the hole for the speedo drive.
Old original /2 tool for compressing the Earles fork shocks.  It was never worth a damn.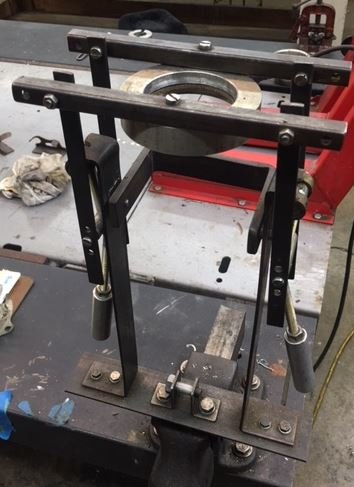 My improved homemade version of the Earles fork shock compressor works like a charm!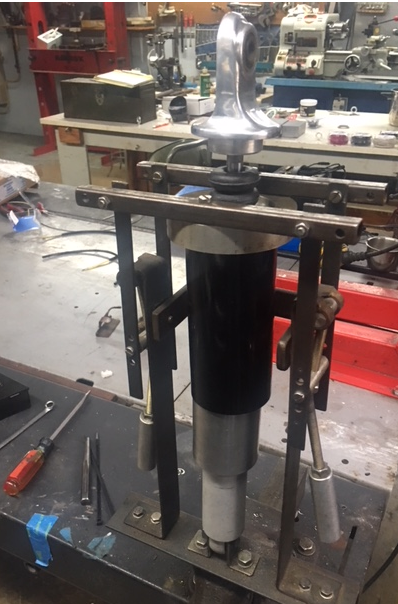 This photo shows the shock compressor in use.
Duane's note;  Since no owners will have access to such a  tool, here is how to do this job.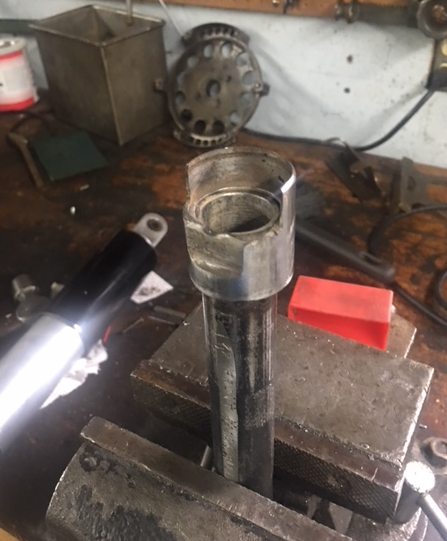 This homemade holding fixture is to rest the lower front shock eye, while removing the silent block bushing, without scaring the side of the eye.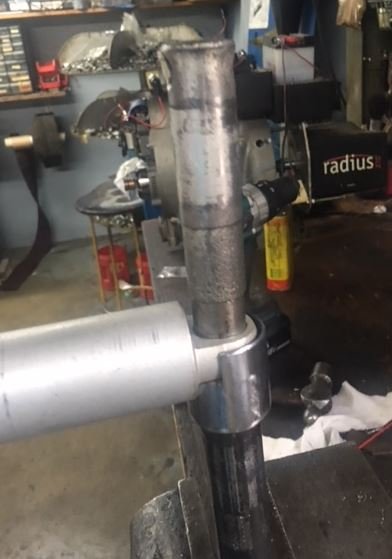 This photo shows the tool above while in use with the driver.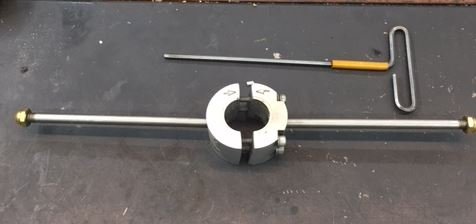 Homemade shock cartridge removal tool.  It does not crush the cartridge and will unscrew it out of the lower eye, front, or rear.  I do not think there was a factory tool for this job.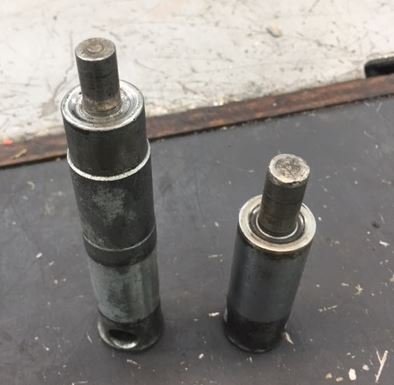 Homemade front shock and rear shock silent block removal tools, made out of old axles. No factory tool for this.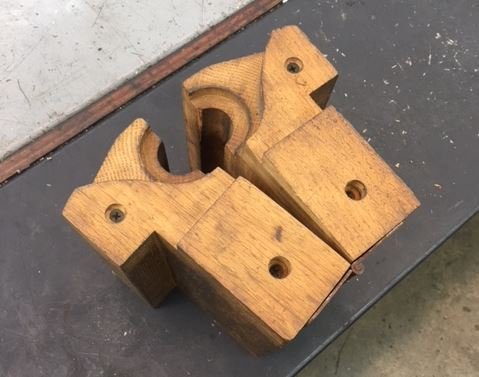 Split wooden clamp for holding the lower triple plate of plunger frame bikes when doing fork work.  This tool has a Matra number, but I don't know what it is.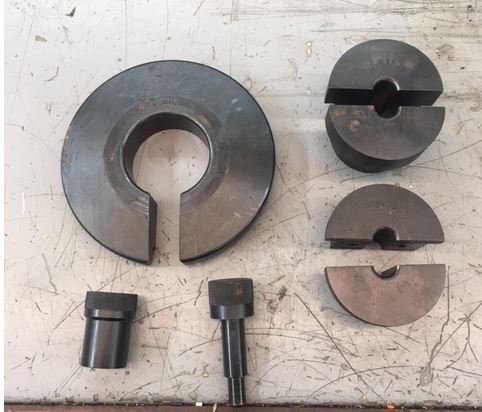 Matra number 333/2 support ring, with the two split collets Matra 281/3 and 281/4 along with the pressing arbors.  It is used to press on the drive flange of plunger frame bikes, singles, and twins.  The right hand pressing arbor is used to remove the flange from the driveshaft, the left hand one to install the flange on the driveshaft.  I don't stock these three items, but they are available brand new.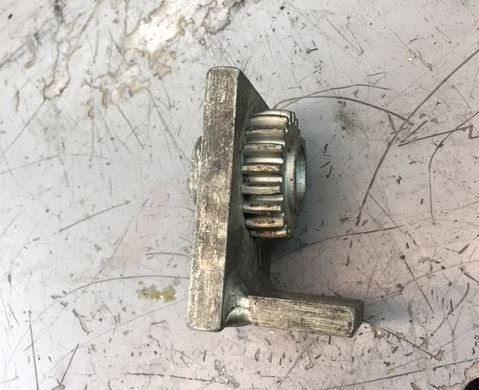 Matra 508, I think that it is inserted into the female drive shaft coupling, so you can unscrew the nut that holds the coupling on.  Don't know which model bikes.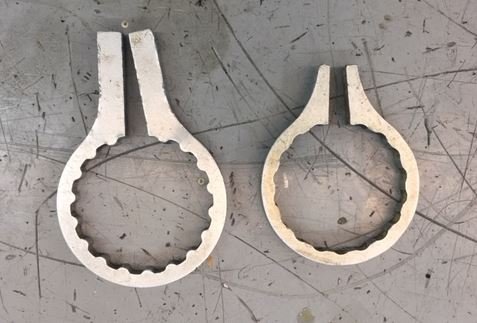 This homemade tool fits the ring nut of the slide chamber on Bing carbs, both the R50/R60 and the R69-R69S ring nuts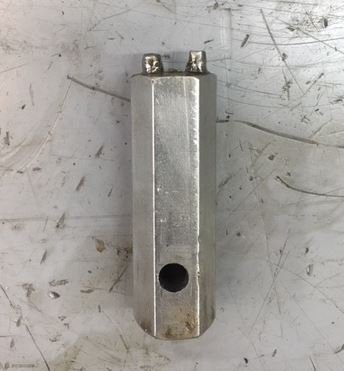 This is a homemade tool to unscrew the pivot pins for the rear swingarm from the frame.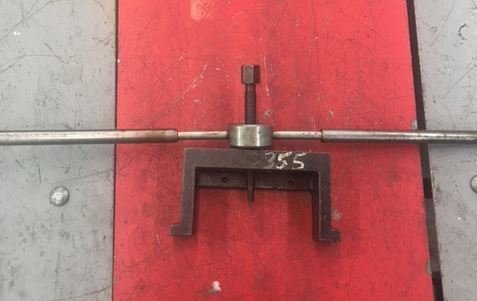 Matra 355 with handle extensions, for removing the camshaft from the case
This isa homemade puller to remove the front main bearing from crank and case.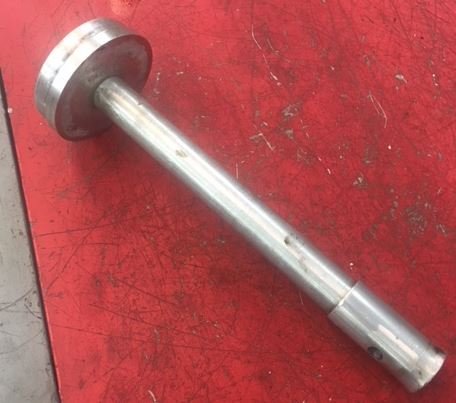 Homemade stepped rear main bearing carrier driver to remove and install the carrier in the case.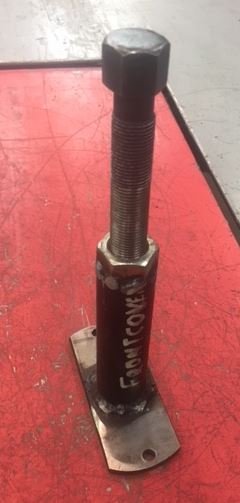 Homemade front gear cover puller.

Homemade oil slinger scraper
Homemade tool to install rear main bearing on the crankshaft.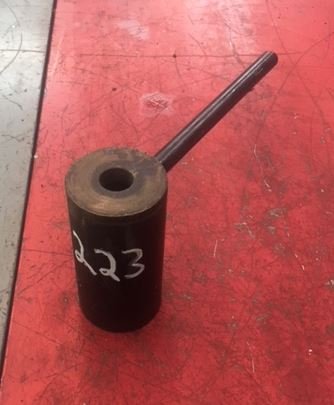 This Matra 223 tool is used to push the front main bearing carrier into the case while pulling the crank nose through the bearing.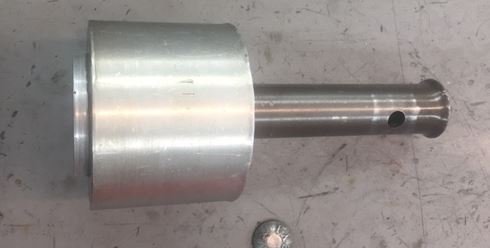 Homemade rear main seal driver.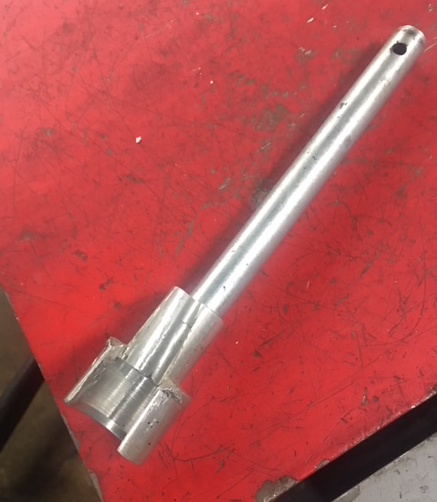 This is a homemade tool that never was.  Drives the pushrod tube seals into the block to ensure they are seated before adjusting the pushrod tubes in the cylinder while the cylinder is mounted on the case.
Matra tools, not sure of the numbers, maybe for /5 or /6.
Vech may supply more tool photos when he gets some free time.
Updated 12 Nov. 2019